Conquering Slieve Gullion
Posted on
Here at Wuffdog we like to practice what we preach. We firmly believe in getting out and about exploring all Ireland has to offer and taking your canine companion along for the adventure. It's also a great opportunity for us to road test our products and ensure they reach our high standards. We've decided to start a blog to tell you about some of the best dog friendly hikes in Ireland and share our adventures with you.
This weekend we decided to head northwards to climb Slieve Gullion in County Armagh, one of the best examples of a volcanic ring dyke and a designated area of outstanding natural beauty. Slieve Gullion, meaning "mountain of the steep slope" is the eroded heart of a volcano, active about 60 million years ago. So off we set on Saturday, three intrepid explorers, to climb to the summit of this once volcanic region.
The sleeping volcano
Located just over an hour outside of Dublin Slieve Gullion Forest Park is easily accessible via the M1 and you must go to the forest park in order to start the walk. (GPS co-ordinates below) We arrived at the entrance to the forest park about midday and it was extremely busy. The gates were actually closed but we informed the gentleman at the gate that we were there to climb the mountain. He let us in and told us to go up the forest drive to the higher car park and that we could access the summit from there. This would be a good option if you want to do a shorter walk. However, when we go hiking we like a challenge and upon entering the lower car park we managed to grab a parking spot. We decided to do the longer walk and headed up the forest drive on foot and paws.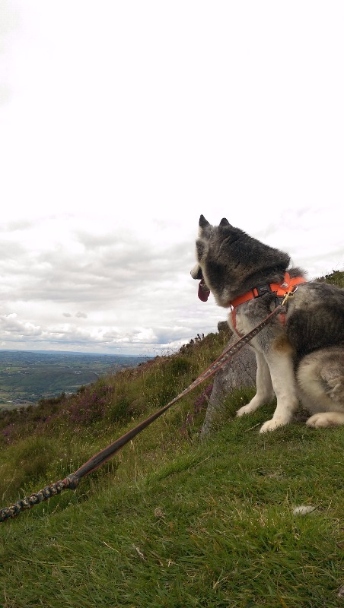 Admiring the view
The walk up the forest drive is all on a road and as a result there was quite a bit of traffic passing us by on the way up. There is however an abundance of beautiful flora along the road to enjoy, for both human and curious canine noses alike. After roughly 4km we reached the upper car park and found the pathway up to the summit just a few metres past the car park on the right hand side. It is quite a steep ascent of about 2km up to the summit, though a litle easier when you're husky powered! Some parts are quite a scramble up and over large rocks and smaller dogs may need a helping hand but overall it's a fairly accessible route. The views as we made our way up the mountain were spectacular and it's well worth the climb for the scenery alone. Upon reaching the summit we were greeted by an even more astounding sight, a Neolithic passage tomb, the highest in Ireland in fact! As well as being avid explorers, team wuffdog are quite the history nerds and so to visit this magnificent cairn was a real treat. If you didn't look closely you would almost miss the entrance to the tomb which allows you to enter into the chamber. This chamber is aligned with the sun so that it is illuminated on the winter solstice.
Blink and you'll miss it!
Further along the summit there is a lake, an enchanted lake, if the legends are to be believed! There are many myths associated with the Slieve Gullion area and this particular lake, the lake of sorrows, has links with the legendary Finn MacCool. The story goes that he was lured into the lake by a beautiful young woman whereupon he turned into an old and weakened man. The young lady transformed into an old witch Cailleach Beara and they say today that if you enter the lake your hair will turn white. We decided against finding out if this was true!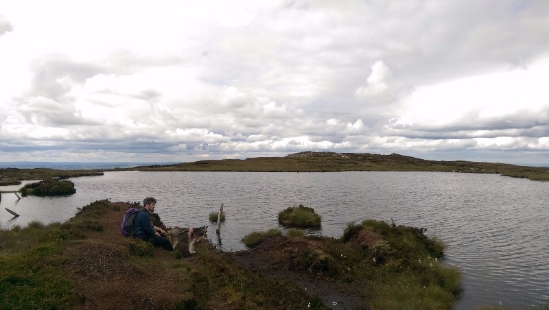 Don't fall in!
Further along again past the lake you'll find another cairn dating to the bronze age. It's worth taking the time to enjoy the amazing views from the summit, you'll see Carlingford lough, the Mourne mountains and the Cooley mountains. After finishing our exploring and with increasingly weary feet we decided to descend the mountain.
Breathtaking
On this hike we decided to road test one of our newest products the Pet Water Bottle. Keeping Kodi adequately hydrated while hiking is one of our top priorities and we always ensure that we have plenty of water with us. Kodi actually prefers to drink from a bottle but normal plastic bottles wasted a huge amount of liquid. These new pet water bottles are perfect as she can control the amount of liquid being released from the bottle thanks to the lick 'n' flow system. The bottle is completely leak resistant and has a carabiner clip which we used to secure it to our backpack. The lid also has a cord keeping it attached meaning we couldn't lose it on the mountain! It's a big thumbs and paws up for the pet water bottle, a definite favourite product so far this year. Practical, functional and an absolute must have for long walks!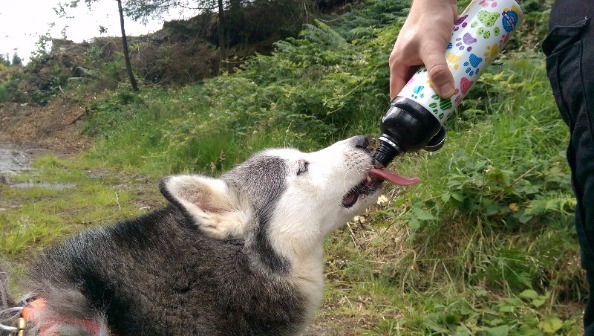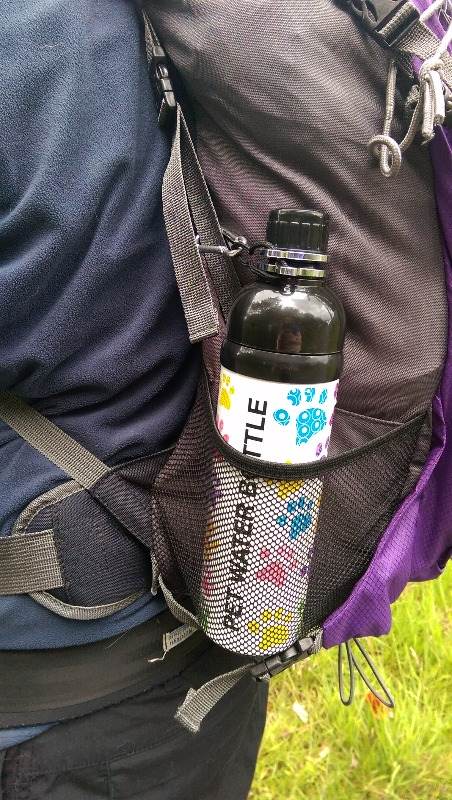 A visit to Slieve Gullion is a must, but a few important things we learned on our trip included:
Go early in the morning and maybe on a weekday as it's an incredibly busy site. The walk to the summit can be quite crowded.

If you want a long walk start in the lower car park, for a shorter walk drive up the forest drive to the higher car park.

Wear decent footwear, it's a scramble to the top. A harness would be recommended for dogs and keep them on lead as there are sheep.

Bring some food and plenty of water for you and your canine pal. We spent about 5 hours out in total so it can be a long trip.
Most importantly have fun! This is a great dog friendly hike that you can make longer or shorter depending on your fitness levels and either way it's an achievement to make it to the summit of any mountain!
Let us know on our Facebook if you decide to tackle Slieve Gullion!
Happy Adventuring!
Team Wuffdog
GPS CO-ORDINATES: Slieve Gullion Forest Park 54.115497, -6.408382
Note: Kodi is wearing Ezy Dog Chest Plate Harness